First topic message reminder :
I'm going to start a new post for this new weapon design.
PLEASE KEEP THIS POST ON TOPIC. DISCUSS THIS DESIGN ONLY PLEASE.
We seem to have so many it just gets worse when they are mixed together.
..................................................................................................................
Recieved my 'Assassin's Extending Knife' in the mail today.
It was $135.00 + $10 to have it sharpened.
Description:
The Assassin Extension Knife locks into place with a simple slide.
A release button allows it to slide and retract.
Attaches easily to your Assassin vambrace.
• Overall: 19-1/8"
• Wt: 1 lb/4 oz
• Blade: 9" long, 5/8" wide, 3/16" thick
Buy it here:
http://www.atlantacutlery.com/atlantacutlery/detail.aspx?ID=1946
or
http://www.windlassstudios.com/p-76-assassin-extension-knife.aspx
Here it is out the box...smells like oil.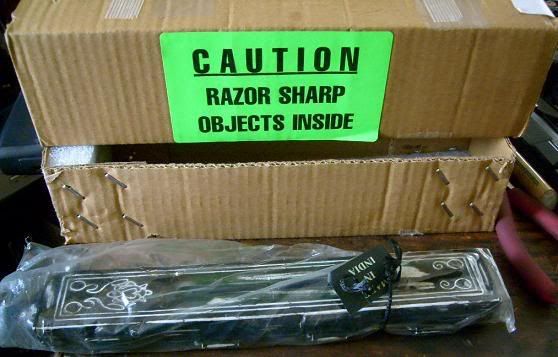 Closed

Extended

The blade and sleeve.

Close up of the blade. Rounded tip to be a safe prop....it's a easy fix on the belt-sander.

The sleeve and front.

Here's the button lock. Very simple, this is all you really need guys!!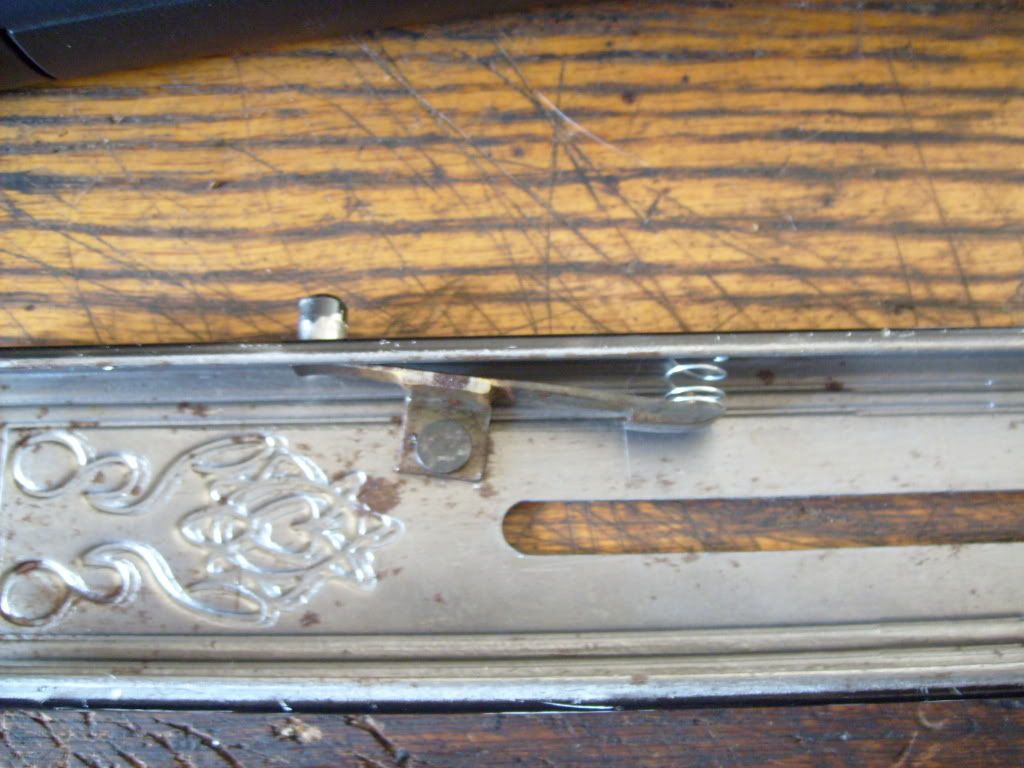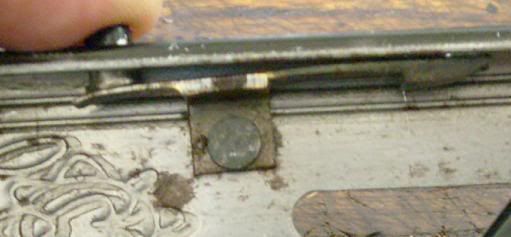 Opened up. Here's what you guys have been waiting for!!!! And it's simple!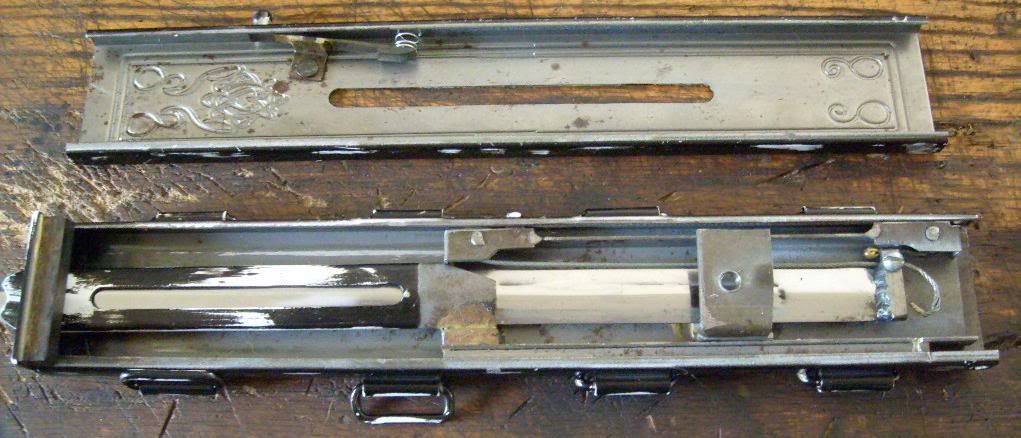 How the flex cable is attached to the blade.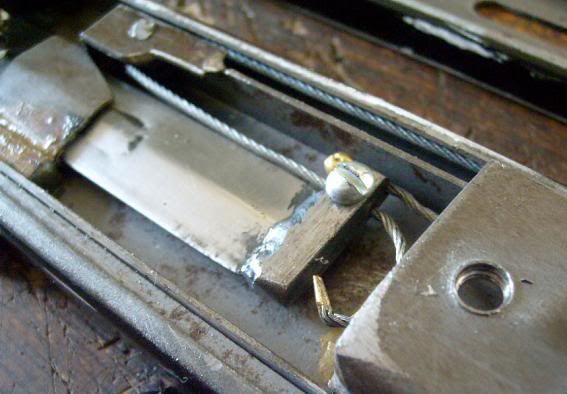 How the sleeve is attached to slide plate.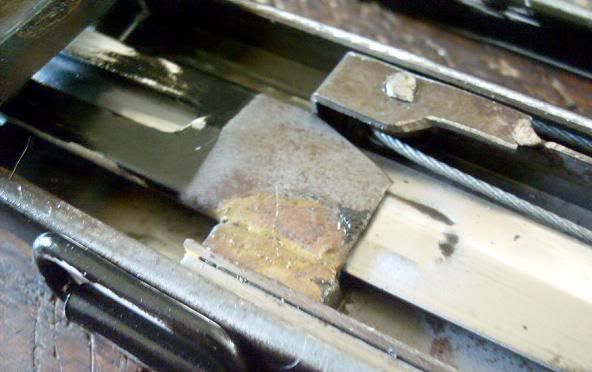 But how does it all work?!?!?! So simple....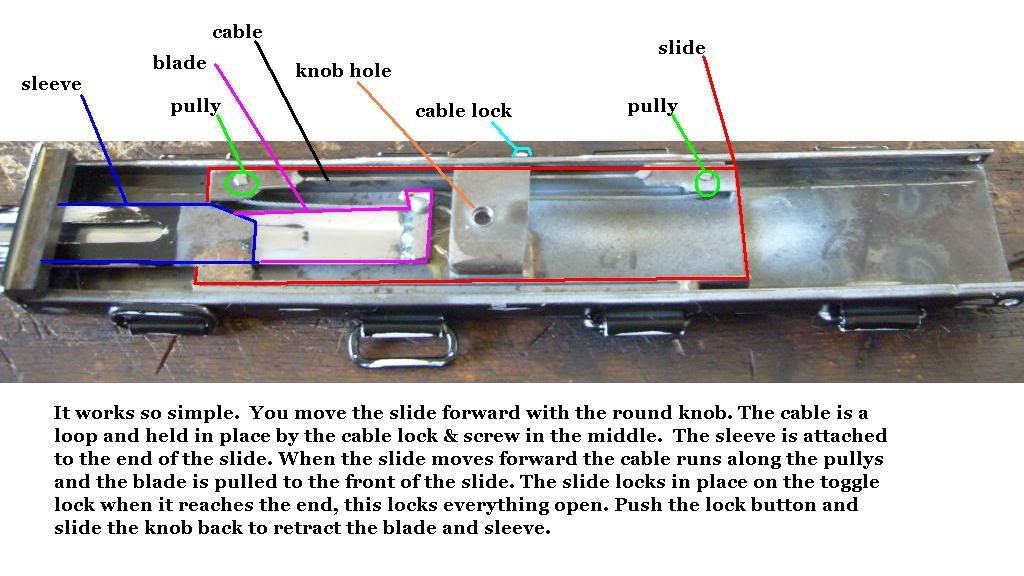 It's so basic it's almost embarrassing.
If this is the first of this design I'd love to see really nice version made really strong.
It's great for what it was made for, a costume prop or addition to a collection.
That's why it has a rounded tip. It would be easy to make it a sharp point on the belt sander if you wanted.
I can't see it taking too much abuse before it broke or bent.
As it is it came without the lock spring, so I had to open it up to fix it with one of my springs.
Not a real big deal, but I wasn't happy about it until it was fixed.
It's a little big...but looking at it I really think it could be done without the top half of the 'box'.
If you re-positioned the lock this might be able to be made half thickness. That would make a big difference.
Can it be made automatic? Semi-automatic?
Maybe.
I could see a few different ways of redesigning this, maybe with springs....maybe with a lazy-tong...or both.
The cable and pully extension system is so simple, it's how our curtains used to work as a kid.
Is it worth the money?!?! That is up to you to decide. I know I'm happy I have one!!
O.k......did I cover it all??? Any questions??
Now....on to the redesigns and the project builds!!!!